WHERE'S #LBCE2018 HAPPENING?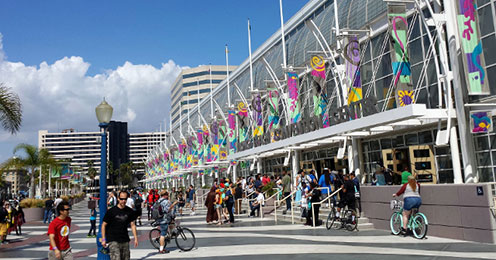 Long Beach Convention Center
300 E Ocean Blvd Long Beach, CA 90802
P: 562-436-3636 | F: 562-983-1491
The Long Beach Convention Center is our home away from home every year for the Expo. It is located in the heart of downtown Long Beach, California and within walking distance to first-class accommodations, shopping, dining, attractions, sightseeing along picturesque bays and 5 1/2 miles of sandy beach.
Show Hours:
Saturday, Feb. 17 – 10:00 am – 7:00 pm (Advance Ticket holders at 9:30 am)
Sunday, Feb. 18 – 10:30 am – 5:00 pm (Advance Ticket holders at 10:00 am)
Visit Their Website
WHERE ARE WE STAYING?
Hyatt Regency Long Beach
200 South Pine Avenue
Long Beach, California 90802
For your convenience, we have arranged rooms for a discounted group rate of $199 single/double (plus applicable taxes and fees). All guests are invited to secure their accommodations online or by phone.
Rates will remain in effect until February 1, 2018. However, please note that the discounted group block is subject to availability and is not guaranteed. Rooms are available on a first come first served basis, so be sure to book your room early!
BOOK YOUR ROOM TODAY!
Call: (888) 421-1442 and mention LBCE
Deadline is February 1, 2018
Book Online

Mad Event Management, LLC is an agency dedicated to the success of your event of any size. We have years of experience managing all aspects of live events, including large scale consumer and trade shows, meetings, conferences and exhibitor execution. MAD also owns and operates several pop culture conventions: Long Beach Comic Expo, Long Beach, CA; Long Beach Comic Con, Long Beach, CA; New Jersey Comic Expo, Edison, NJ, Comic Creators Conference (C3), Long Beach, CA & Havana, Cuba.
The skill set required to produce conventions and conferences involves event planning, marketing, sales and operational expertise, all of which the team at Mad Event Management LLC is experienced and qualified to provide to our clients. We have been managing exhibitor set-up and handling event marketing for over twenty years, having produced exhibits for events such as Comic-Con International: San Diego, Frankfurt Book Fair, New York Comic Con and many other events.