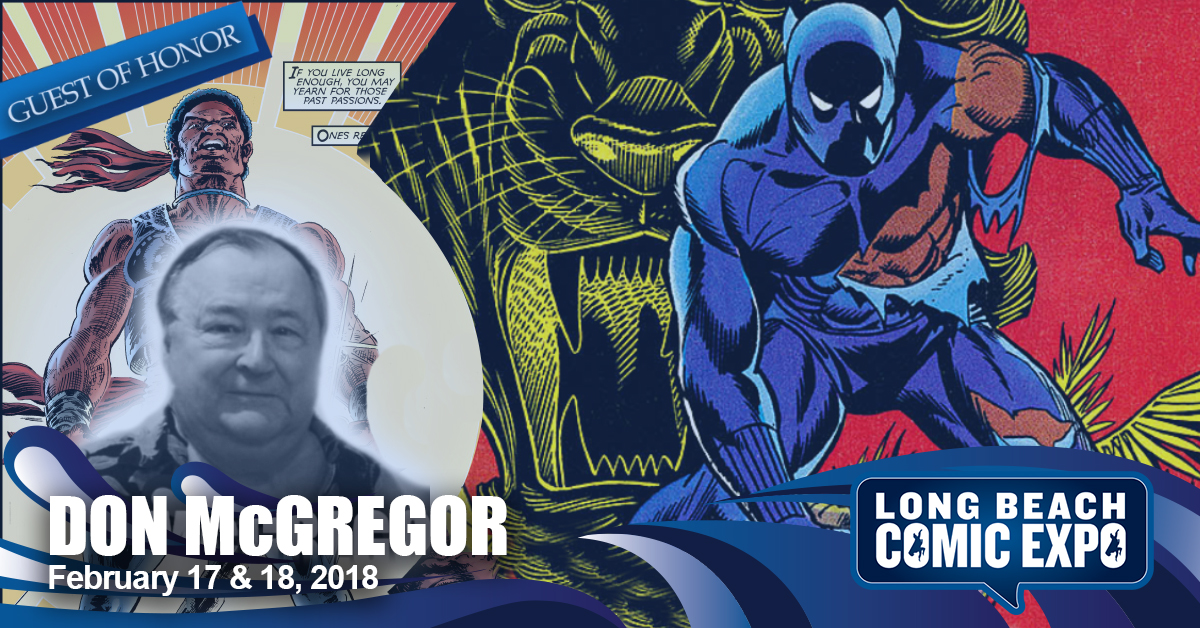 Acclaimed writer Don McGregor – whose groundbreaking work on Black Panther in various series (beginning with JUNGLE ACTION in the 1970s) is one of the inspirations for the current hit Marvel movie – makes a rare West Coast appearance as Long Beach Comic Expo's first-ever Guest of Honor.
McGregor began his comic writing career nearly a half-century ago, creating his own series DETECTIVES INC. as a fanzine that he took to the annual New York Comic Convention. It was after meeting legendary publisher Jim Warren at that convention that his comic writing career began in earnest, writing horror stories for Warren's illustrated horror line of CREEPY, EERIE, and VAMPIRELLA.
In the 1970s, he was assigned to write the BLACK PANTHER in Marvel's JUNGLE ACTION comics. 1973's "Panther's Rage" was the first mainstream comic story to have an almost entirely black cast of characters and is well-remembered today as one of the best and most-significant series in Black Panther's long history.
In subsequent years, McGregor would expand his work from the horror and superhero genres to groundbreaking science-fiction series and literature adaptations at Marvel and elsewhere. Among the projects he worked on during that time were KILLRAVEN, MORBIUS THE LIVING VAMPIRE, and LUKE CAGE, POWER MAN. But his mid-1970s independent graphic novel SABRE – one of the first original graphic novels ever – was a game-changer, challenging taboos about what kinds of material, and what kinds of characters, could be spotlighted in comics stories, years before major comic book publishers followed suit.
During the 1980s, he updated DETECTIVES INC. as a hard-boiled graphic novel, working with Gene Colan on what would be one of several collaborations with the acclaimed DAREDEVIL artist, among them the 1950s-set RAGAMUFFINS from Eclipse Comics and the two 1930s' noir NATHANIEL DUSK miniseries for DC Comics. McGregor and Nolan would also team up on the writer's return to Black Panther in the "Panther's Quest" storyline, bringing the character face-to-face with the realities of apartheid-era South Africa!
McGregor would return to Black Panther in more-recent years for the "Panther's Prey" storyline, and in the new BLACK PANTHER ANNUAL, the latter timed to coincide with the release of Marvel's BLACK PANTHER film, which incorporates many elements of McGregor's most-classic Black Panther stories.
Among his many other credits and achievements, McGregor has also written prose short-story collections and James Bond comics, taught writing at the SCHOOL OF VISUAL ARTS, been a movie reviewer and interviewer for various publications, and, in the 1990s, wrote Zorro comic books (as well as a syndicated newspaper comic strip) that featured the introduction of the popular Lady Rawhide, who would eventually be spun off into her own series.
Long Beach Comic Expo's first-ever Guest of Honor also wrote an episode of the BEN10 animated series for legendary producer Dwayne McDuffie, whose legacy is maintained through the annual Dwayne McDuffie Award for Diversity in Comics, being presented this weekend at Long Beach the night before the Expo begins.
Get your tickets now!