Panels & Screenings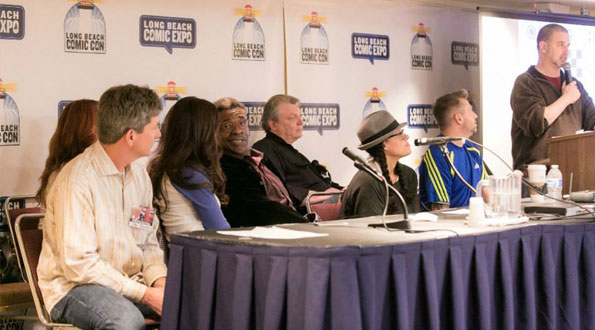 We hope you enjoyed the 2018 Long Beach Comic Expo Programming.
Panels were on topics as varied as cosplay, webcomics, self-publishing, horror, and politics and pop culture, as well as welcoming Humanoids Publishing (A 20th Anniversary Celebration), Fanbase Press (The Impact of Latinx Creators, STAR WARS: Themes of Legacy) for panels of their own. GeekFest Film Festival (Meet the GeekFest Filmmakers, Women of SciFi, Best of GeekFest) returns to Long Beach with a robust lineup of films and panels all its own.
Other programming highlights included a rare one-on-one spotlight with LBCE's first-ever Guest of Honor, Don McGregor (BLACK PANTHER) and panels welcoming multiple Emmy Award-winning voice and casting director Andrea Romano (BATMAN: THE ANIMATED SERIES), award-winning comics writer Mark Waid (ARCHIE, AVENGERS, CAPTAIN AMERICA), and screenwriter Aaron Covington (CREED).
In addition, attendees had an exclusive opportunity to join Long Beach Comic Expo special guest Joe Keery (STRANGER THINGS) for a limited Q&A event on Saturday, February 17th at 10:00am.
Returning, The Columbia Memorial Space Center brought SPACE EXPO back to Long Beach Comic Expo with Herbert Jefferson Jr. (BATTLESTAR GALACTICA) as Guest of Honor. The Space Expo featured numerous JPL Workshops throughout the two-day event and collaborative panels such as Rocketry 101 with Virgin Orbit and How to Build an R2D2.
STAY TUNED FOR 2018 PROGRAMMING TO COME!