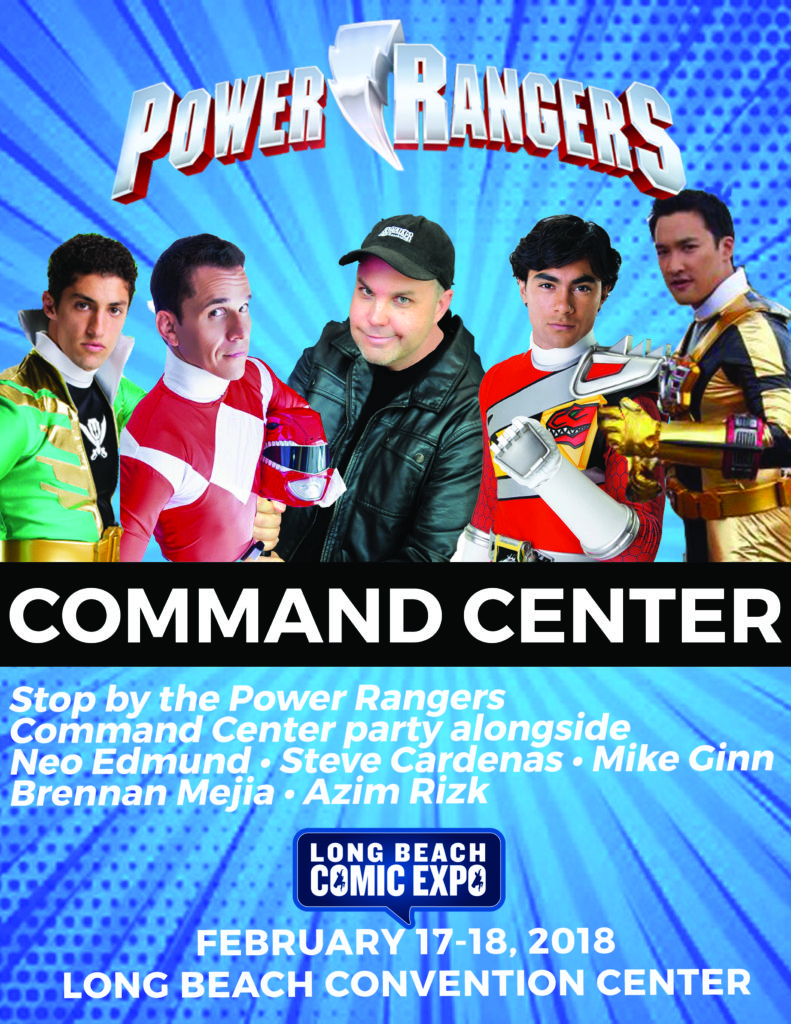 Join us on February 17 & 18th at the Long Beach Comic Expo Power Rangers Command Center to MEET & GREET Mighty Morphin Power Rangers Putty Patroller, Neo Edmund • Rocky DeSantos, The Red Ranger, Steve Cardenas • Gem, Gold Falcon RPM Ranger, Mike Ginn • Red Dino Charge Ranger, Tyler Navarro, Brennan Mejia • AND Jake Holling, Black Megaforce Ranger, Green Super Megaforce Ranger, Azim Rizk.
Neo Edmund: Neo Edmund is an actor and writer, known for Red Riding, the Alpha Huntress, Mighty Morphin Power Rangers (1993) and Power Rangers Zeo (1996)
Steve Cardenas: an American martial artist, musician, and actor. Cardenas is best known for playing the character Rocky DeSantos, which was the second Red Power Ranger in Mighty Morphin Power Rangers and eventually became the Blue Zeo Ranger in Power Rangers Zeo, two seasons later.
Mike Ginn: a New Zealand film and television actor. Best known role as Gem in Power Rangers RPM. Played Riley in Blood Punch, Jackie Chan in Flat3, a speed-freak in 13 Steps, Vincent Wong in My Wedding and Other Secrets. Ginn also had a small role in The Hopes and Dreams of Gazza Snell and portrayed Lloyd in Amazing Extraordinary Friends.
Brennan Mejia: known for his work on Kaboom (2010), Power Rangers Dino Charge (2015) and Skate God (2018). He has been married to Katelyn Scholte since January 10, 2015.
Azim Rizk: known for his work on Billy Lynn's Long Halftime Walk (2016), Power Rangers Megaforce (2013) and Los Angeles Overnight (2018).
Get your tickets now!